Uncharted Regions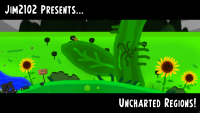 Author:
Jim2102
Total downloads: 277
Latest version: 1.101
Release date: 07/31/2020 - 03:54
Uncharted Regions
A MWV (5 chapter) goomod by Jim2102. Big thanks to the squad for modding knowledge and support along the way.
What is this mod about?
Uncharted Regions takes place on a different planet, with 5 different regions to explore. Each region has a "hero" gooball, which appear on most levels in the chapter that it is assigned to. They can help you complete challenges and overcome obstacles more easily and efficiently. There are new gooballs in this mod, which should help expand the experience even more.
More info about the hero gooballs
Each chapter will have a hero gooball from some goofans, for example, Adrian122 is the Pollen Goo, and the pollen goo will show up in Chapter 1. Toxic Goo is the Mutant Goo, so they will show up in a later chapter. The squad has given me permission to do this, so don't worry about that.

About the art
Yes, I know, my graphics aren't "top-tier" or anything. But that's kind of the aesthetic I was going for. Something fun and easy to draw and make. I draw up most of my assets using Paint.NET, but for complex graphics (like gooball textures) I use GIMP.
Signs and memes
I tried to make most of the Sign Painters sign humerous, just for fun. Also, I've hidden signs throughout some levels with some funny comments that I've gotten on my youtube videos, also satire. So if you find any, just know that they're jokey little easter eggs. Various memes are also scattered throughout.
Soundtrack
Big thanks to Adrian for composing custom songs for UR. You can listed to them here on SoundCloud: https://soundcloud.com/lilfungus/sets/uncharted-regions-ost
Changelog
Google Doc of changelog: https://docs.google.com/document/d/1jgbulObE09ug4zJLUGL2PItpV3dLh-jLxf9p...