Barbershop Tower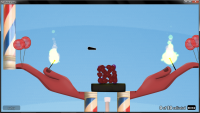 Author:
Kasumii999
Total downloads: 897
Latest version: 1.0
Release date: 06/04/2017 - 02:33
Back again!
This is also part of my Tower Series!
And I used some resources from this.
The last towers will be Machine, Honeybee and Songbird towers.
I also followed gooey goo's Barber poles because he/she'll be very disappointed...
I'll also make a chapter (or levelpack, I don't know) containing the towers and a few extra levels.
There is 1 current download.