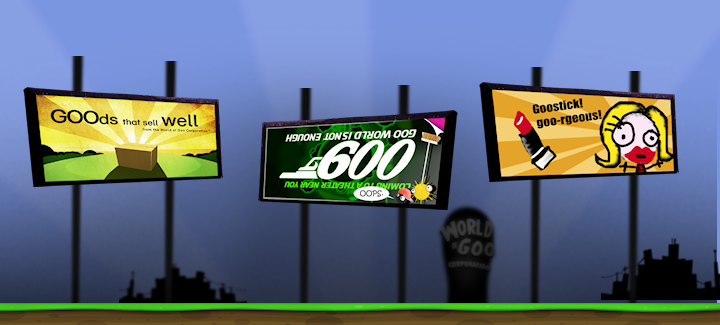 the billboard contest is now closed and the winners announced:
Congratulations to the winners and well done to everyone who took part. Said Ron Carmel, co-founder of 2D Boy: "We're so impressed with all the imaginative entries. Remember, you're all winners in the eyes of MOM!".
Kyle Gabler was too busy for comment but his sound bite generator generated this: "World of Goo Corporation states that is is enthused with the sign painting, and is thrilled to offer one of its World of Goo brand products to the winner*.

*World of Goo Corporation is required to disclose that everyone is a winner, but degree of winning may vary from person to person."
While the contest is over, you can continue to upload new or revised billboards. The three winners here now appear in the World of Goo Corporation level, but the runners-up will appear in an upcoming version of Infinitive Windows Freezer.
You can submit billboards here. For easy voting, there is a page with all entries and a page with only the entries you haven't voted for yet. Note that you'll need to register an account here before you can submit images or vote.
Original World of Goo Corporation Press Release
Our Valued Friend, the World of Goo Corporation kindly invites you to join in our latest shameless self-promotion exciting contest, "Advertising Idol". We're looking for bright new talent to design billboards to stand outside the World of Goo headquarters.
Do you have what it takes to make it in the glamourous business of advertising? MOM thinks you do. Win fabulous prizes and be the talk of the town!
The World of Goo Corporation's Genuinely Sentient Judging Panel will pick their three favourite billboards, and the designer of each will win a free boxed copy of World of Goo, signed by Kyle Gabler and Ron Carmel.
On top of that, all billboards that are highly rated by the community will make an appearance outside the World of Goo Corporation tower*! Voting is now open! For easy voting, there is a page with all entries and a page with only the entries you haven't voted for yet. Note that you'll need to register an account here before you can vote.
* Billboards will appear in rotation on the World of Goo Corporation levels for GooTool users who have not opted out. This contest does not imply any future version of World of Goo by 2D Boy.
Guidelines
Your final billboard should be 512x256 in PNG format, and include a frame of the same shape as the existing billboards. Here's a ZIP file with some PSDs and PNGs you can use to get started. If you use larger sizes, remember to resize to 512x256 before you submit your entry.
Any original design is fine, as long as you avoid references to real-world products (parodies are acceptable as long as you can justify fair use).
Here are some examples from the game: What do you want to GOO today?, Delicious and It Tastes So Goo-d.
When you've made your billboard, create an account and then submit your image here.
Rules
Eligibility
No residency restrictions apply to this contest. Void where prohibited. Entrants under the age of 16 or who are a minor in their jurisdiction must obtain permission from their parent/guardian before entering.
Content
The contest entries must be in transparent PNG format, 512 pixels wide and 256 pixels high, and include a border of the same shape as either the "left" or "right" images in the sample ZIP file.
Advertising real-world products is strictly prohibited, and parodies of real-world brands or content must justify fair use.
The number of entries per person is not restricted, however duplicate or substantially similar entries will be disqualified.
The judges explicity reserve the right to disqualify any entry that they feel violates the terms or the spirit of these rules, or that in any way may cause harm to 2D Boy, LLC, GooFans.com or associated companies and brands, and are not required to justify their decision.
Entry Procedure
Entrants must register on this website, providing a valid e-mail address, and validate their address before submitting their entry. Entries must be submitted at http://goofans.com/node/add/image in the "Billboard Contest" category, and the terms of the contest must be accepted.
The deadline for receiving entries is June 30, 2009 12:00 UTC but may be extended or shortened at the discretion of the promoter. The promoter reserves the right to cancel the competition at any stage, if deemed necessary in their opinion, or if circumstances arise outside of their control.
Selection of Winners, Prizes
A panel of judges selected by the promoter will select the winning entries. The winners will be contacted directly. Only the winners will be contacted.
Winners notified by electronic mail, must reply with all contact information requested in the notification within five days from the date notification was sent, or another winner may be selected. Prizes must be taken as offered. There are no cash alternatives.
The promoter's decision is final in all matters and no correspondence will be entered into.
The promoter does not accept any responsibility for late or lost entries due to the Internet. Entries will not be acknowledged. Proof of sending is not proof of receipt. No responsibility is accepted for ineligible entries or entries made fraudulently.
By submitting your entry to this contest you agree to the use and publication of your entry in any form by 2D Boy, LLC and GooFans.com without additional compensation, and to the use of your entry and username or handle in promotional and other material.
Promoter: Sargasso Networks Ltd. doing business as GooFans.com