The Big Adventure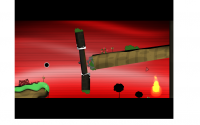 Author:
Googuy57
Total downloads: 368
Latest version: 1.1
Release date: 08/28/2016 - 18:35
This is my biggest (and hardest) level yet. It will take a long time to complete, but its a fun level! I can't tell you how long it took to make this level!
There are four large areas to explore. You start at the bottom left, then go up to the top left, then the top right, then the bottom right. Its a very hard level, but there is no OCD so you won't need to worry about that. You just have to get at least 4 gooballs to the pipe. Have fun!
Update 1.1
-Fixed zoom
-Added autobounds
-Added more clouds to the places where the backgrounds change
-Fixed gooball placement at the large wheels
-Changed the "discovered" path for the gooballs at the large wheels to "false"
-There is now only one "poi" camera
-Fixed the misspelled word "travelling" to "traveling"