The BLACK World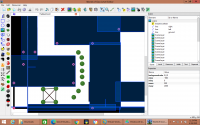 Author:
SignPainter1232
Total downloads: 24
Latest version: 1.0
Release date: 03/29/2021 - 15:24
Take a look at this! Levels with zero images are not dead!

In a way, this is a few months overdue. This was originally unapproved, since I forgot to add a screenshot (thanks to Jim2102 for reminding me), although sadly I upgraded to Windows 8 on May 23. It took all of my files located in the Program Files folder and put them in the Windows.old folder (as anybody who upgraded to Windows 8 can tell you, it does that). Thusly, I could not open GooTool to install the level and get the screenshot. I upgraded to Windows 8.1 on the 30th. At least that didn't affect my files. So yesterday (at the time I'm writing this, it was on June 28.), I reinstalled Java, although GooTool was acting up a bit, so I reinstalled the Editor, and I got the screenshot from there.
After so many months, my third level is FINALLY here!
-the Sign Painter
There is 1 current download.