Bridge builder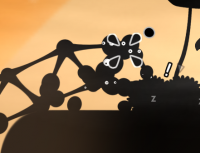 Author:
HiCassius
Total downloads: 2,516
Latest version: 3.5
Release date: 10/04/2013 - 22:44
EN:An easy level,hope you like it!


My first level.
CN:很简单的关卡,希望你喜欢!


我的第一个关卡
EN:-V0.1:First version,full of mistakes.(OCD 25 balls)


-V0.1+:Correct "material""verysticky"(OCD 25 balls)
-V3.1415926...:Shorten the pipe,OCD 3 minutes 59 seconds
-V3.5:Delete "walkable" tag,OCD 3min 30sec.
CN:-0.1版:第一个版本,错误百出(OCD目标25球)


-0.1+版:修正"material"为"verysticky"(OCD目标25球)
-3.1415926...版:缩短了管道,修改OCD目标为3分59秒
-3.5版:删除了"walkable"的tag,修改OCD目标为3分30秒
EN:Have fun!


CN:希望你玩的开心!