Bug Repellent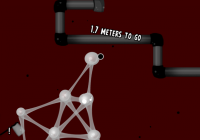 Author:
SandboxStickyBomb
Total downloads: 502
Latest version: 1.1
Release date: 05/20/2016 - 18:59
This level LOOKS super easy. But it's really pretty hard. OCD is 5 balls! Try to beat it.


My first level online!
Please leave a comment! Or rate it!
NEW version 1.1- changed OCD to 8 balls- thanks Jim2102!

Sorry about the garlic. I'm not sure how to fix it

There is 1 current download.