Crazy "Head"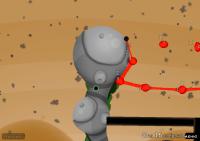 Author:
TailsFANAT
Total downloads: 405
Latest version: 0.2
Release date: 03/06/2016 - 21:42
Attention!: All levels what will be made by TailsFANAT, that levels will be from Al dokko (me). I have a new profile now.
Thanks early, for understanding!
My next level. I think it dosent have something intersting, but this is my first level with new character (I dont mean goo).
Try to get time OCD!
Goal: 16 balls.
OCD: 45 seconds.
There is 1 current download.