Help Me Up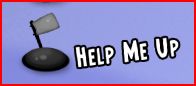 Author:
SignPainter1232
Total downloads: 255
Latest version: 1.00
Release date: 02/14/2021 - 15:36
Good old WoG beta nostalgia!
This is my FIRST level!
IMPORTANT! There is a geometry error which will cause the Goo structure to fall so don't put a Goo on a strand connecting one of the Gooballs and one of the AnchorStickies. Don't even ATTACH IT!!
-the Sign Painter
As of October 24, 2021, this addin has over 100 downloads!!!
There is 1 current download.