Night Climbing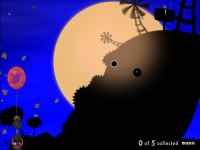 Author:
HiCassius
Total downloads: 382
Latest version: 0.3
Release date: 07/15/2020 - 21:42
My 4th level(actually not but the 3rd),which was made initially on November 2nd,2013 and was updated initially on May 18th,2015.And then it was abandoned.
V0.2.3.233:set the OCD 22 balls and modified the sign painter.
Updated again on July 16th,2020,just a week after my College Entrance Examination.
V0.3:modified the sign painter again by correct some mistakes and adjusted the buoyance of water so that the gooballs are able to float on the surface of water rather than fall down.
The number of my most ball collected is 30,but I think it can be more.
我做的第四个新关(事实上是第三个,因为种种原因变成了第四个),最早是在2013年11月2日发布的,在2015年5月18日更新了一次,然后就弃坑了。
0.2.3.233版本:设置22球作为OCD标准,并对标志牌稍作调整。
2020年7月16日,回来作了第二次更新,也是正好赶上高考结束的假期。
0.3版本:再次调整标志牌,修改了一些错误,为了让粘粘球可以在水面上漂浮就调整了水的浮力,上一个版本会出现一个1kg的粘粘球会从水上以5m/s²的加速度向下加速运动而坠落的现象。
我测试的时候最多收集30个球,但可能应该还会更多吧。