Songbird Tower ♪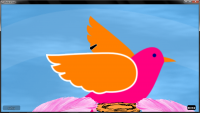 Author:
Kasumii999
Total downloads: 665
Latest version: 1.1
Release date: 06/08/2017 - 21:04
Pink birds!
It was raining hard while I was making this.
Anyway, this is the 3rd before the last 2 towers, then the levelpack, then the chapter!
It has a feathery feel to it.
There's also a surprise when you finish the level.

I challenge gooey goo to get 2 moves on this level. (or anyone who tries it, just tell me in the comments)

Change log:
1.1 - Fixed the annoying falling bird so that it's much easier to finish the level. (but not for the 2 moves challenge, sorry

)
There is 1 current download.