.5: The Gear Chapter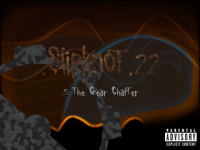 Authors:
.SlipKnoT._2_2
,
gg
Total downloads: 1,896
Latest version: 3.0
Release date: 10/30/2015 - 07:10
.5: The Gear Chapter is my fifth chapter and the last chapter to feature gg alive. This is my first chapter based on destroying geometry. The chapter took influences from goomatz "two-strokeengine" and MOM4Evr's "Gravity Hole" and many more. Gg and I made this chapter to a successful one, hitting 40 downloads on its first day, despite the fact that it is the chapter with the most bugs. This chapter was supported by 3 single levels, "Geargiarsenal", "Weight Regulation" and "Rotary Club". The first stint of this chapter on goofans is the sample level "New Machineries", which would later appear on the chapter as a regular level. This is the only chapter gg had so many contributions.
Single levels from this chapter
"Geargiarsenal"
Released: September 12, 2014
"Weight Regulation"
Released: September 20, 2014
"Rotary Club"
Released: October 3, 2014
Session
This chapter was created for a month because we had no troubles with errands. It is the easiest chapter to create but rather the most impossible one because of the level "The Razor's Edge." "Geargiarsenal" served as the teaser single level for the chapter. 2 hours per day made quite a good chapter. The first chapter was harder because I had no friend to help me out. The time I had gg by my side converted the session duration from 5 months into 1 month and 1 week for "Black and White."That why losing him wasn't easy.
Level highlights
The levels are somehow bloody (in short, they are hard). Playersneed further knowledge about geometry and goo ball's composition. You must not fool around if you want to achieve the completion. I don't think moderators needed to play the whole chapter just to publish it. My chapters are usually 8-12 levels.
Level Listing
All levels created by .SlipKnoT._2_2 and gg
"†" denotes that the level appeared as single level.
1."Geargiarsenal†"
2."Uncap"
3."Gear Chamberlain"
4."Weight Regulation†"
5."Elevator"
6."New Machineries†"
7."Rotary Club†"
8."Not Enough Room"
9."The Razors Edge"
10."Destroyer of Wheels"
Personnel:
.SlipKnoT._2_2- all levels,custom ball "Noir_Bomb" and "Geargiano Miki", xsl, xml, ideas, concepts, map, custom music "The Good Times"
gg- all levels, custom ball "Geargiano", images, map, concepts, cutscenes,
There are 12 screenshots.
There are 2 current downloads.