Bad Weather (Lava Ocean?)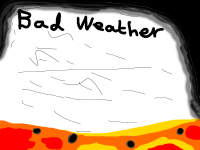 Author:
stefix2200
Total downloads: 146
Latest version: 0.1
Release date: 03/11/2021 - 22:40
A Level with bad weather. There is a lava ocean, a fire sign (if that makes sense), and islands. 2 Islands. OCD is 37 gooballs & you need 9 gooballs to complete the level. You only get GooProduct but I made them draggable, attachable & detachable. Have fun!
Also enjoy my 5% effort picture cuz i'm no artist.
(BTW im busy so i wont upload much)
There is 1 current download.