Beauty and the Deadly Spike Pit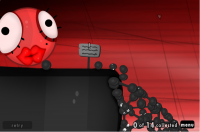 Author:
Iodine-127
Total downloads: 124
Latest version: 1.0
Release date: 02/25/2021 - 16:29
Like Beauty and the Electric Tentacle, but you build an actual bridge accross a spike pit. You have to get the Beauty to the Ball Buster on the other side of the map, then build up to the pipe. You get one bone goo.
There is 1 current download.