Birthday by Electric Fragle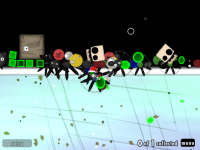 Authors:
Electric Fragle
,
Electric Fragle
Total downloads: 67
Latest version: 0.1
Release date: 03/24/2020 - 19:00
Don't get me wrong, it's actually my birthday。It's a special occasion. You can't miss it?I created this level.Have fun!
Warning:It's a large and long maze,you should spend more time to play.How fast can you do it?
-V0.1 added!
-The challenge OCD
-Many balls gather round(My created balls expect Times)
-Easy but very long
There is 1 current download.