Blue Haze Experiments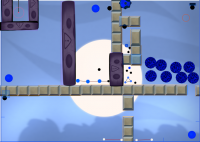 Authors:
1305235330
,
1305235330
,
Liyuan
Total downloads: 583
Latest version: 1.0.2
Release date: 02/22/2017 - 21:06
You heard me, this is just an experiment...
I'm Lihe, I didn't make this level
The author is Liyuan, today I sent this long abandoned level to send!
Thank you for your level, please download,
Thank you for your support!
To secretly tell you this super cool Oh
Let's get started!
Lihe written 2017 sticky February 23rd
There is 1 current download.