Bursted Flames of Fury (Fire Level)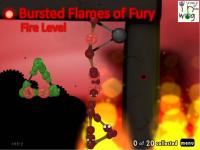 Author:
inwog
Total downloads: 1,680
Latest version: 1.3
Release date: 06/01/2010 - 23:03
WARNING! This addin depends on Element Buster Level, because you need the Fire Product.
ASSOCIATED WITH RED FIRE!
In this level, I used all types of bombs (except for Z Bombs). The last problem was the dynamic object moving around. Inside of it, there are Fire Products, which makes your goo balls more flammable, but others don't.
Fire Element - this element can make your goo balls more flammable, but other goo balls don't catch fire (common, Ivy, AnchorSticky, AnchorFriendly and balloon are not affected by Fire Product) for more info, go to the Element Buster Level to see.
inwog's 10th Single Level Addin
Level made by inwog.
New Version: 1.3
- Strands of Ivy at the 4-Barricade area now reversed.
- OCD is now 70 Balls. (Previous version, OCD is set to 53 Balls)
- Cursor now changes in Red.