Chroma World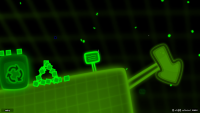 Author:
Watching Youtube
Total downloads: 338
Latest version: 1.1
Release date: 12/15/2019 - 00:45
Chroma World
You find yourself in a colorful yet mysterious section in the Information SuperHighway. There is a recycle bin which may be highly unstable so break it at your own risk. This level will appear in chapter 4.
This level is demonstrating a new color changing trick that I found where you can make things change their color. If you guys want I will release the effect as a sample along with a tutorial of how to make/use it.
The song in the level is called RingRing by Kyle on soundcloud. https://soundcloud.com/lordkos/ringring-full
You should check out some of his work.
Please download the new version, I fixed the mod so it should work without any issues now.
There is 1 current download.