Flight of the Gooballs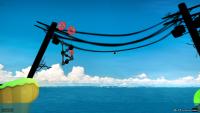 Author:
Watching Youtube
Total downloads: 259
Latest version: 1.1
Release date: 03/16/2020 - 11:50
This level (I think) is the first auto scroller level World of Goo has seen. In this level you must fly while avoiding obstacles in your path. I had the idea of this level for a while and started on it and left it sitting for quite a while. I decided to kill some time by finishing it. Feel free to take a look at how this level works. I'd love to see more auto scrollers because they are lots of fun to play.
The OCD is 3 moves. There are no additional gooballs to collect but don't lose any.
Music I used: Cloud Arcanine - Pokemon Black & White Legends
Note: This level takes about 7 seconds to load. It may be different depending on your computer specs.