Just Balance (Troll Level)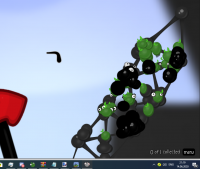 Author:
Blixer9999
Total downloads: 31
Latest version: 1.1
Release date: 06/14/2020 - 06:31
Hello, this is my second addin and first addin that got translated into russian language! It can be not so GOO-d, but it`s really challenging! Try it and show your balancing skills!
Привет, это мой второй мод и первый мод который был переведён на русский! Он может быть не таким хорошим, но он действительно сложный! Попробуйте его пройти и показать свои навыки балансирования!