Merry Gooistmas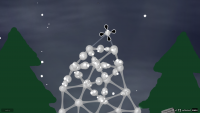 Author:
Purple Scientist
Total downloads: 379
Latest version: 0.1
Release date: 12/25/2018 - 10:42
It's the Christmas eve in the World of Goo!
The Goo Balls decided to build a tower high up the sky. What are they going to find there?
It's the seventh addin by me and it's not easy!
Merry Chistmas!

There is 1 current download.