Morning Coffee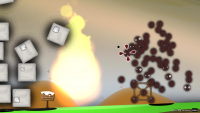 Author:
Purple Scientist
Total downloads: 461
Latest version: 0.3
Release date: 12/06/2018 - 06:38
Morning Coffee is the fourth addin by Purple Scientist and it will make you cheery! This level has zero gravity so it's more challenging than others. Also there are two new species of goo - Coffee and Sugar. Enjoy!
If you have problems with this level, tell me.
Update log
v0.3 - Now with OCD!
v0.2 - Fixed Sugar and added the missing strand.
v0.1 - Published the addin.

There are 3 current downloads.