Origins (Short Mod Preview)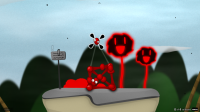 Author:
Toxic Goo
Total downloads: 327
Latest version: 0.1
Release date: 03/11/2021 - 22:27
A short and simple level with the main emphasis of a theme. Some may remember a short Chapter mod called "Code Red" that I once contributed to a while back. You may also notice the goo balls used in this level are from Code Red.
This is because I've been thinking of reviving Code Red in a way, but with a different name and theme. This doesn't mean I'm not working on UKW, I just need a change of scenery really badly after working with ocean themes for like forever now. That, and I think some aspects of Code Red were cool, and I wanted to put its content to use (including scrapped ones!). This mod will not be as large as UKW by any means.
Hope you enjoy this little preview!

There is 1 current download.