Out on the Plane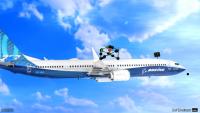 Author:
Watching Youtube
Total downloads: 326
Latest version: 1.1
Release date: 12/12/2019 - 16:59
The goo balls are in trouble. They have gotten stuck on top of a plane that is mid flight. They must reach the pipe to get to safety while avoiding the very high wind and random and high turbulence. This level is short yet quite challenging so be prepared to fail a lot.

I decided to try out a little idea I had and I tested out some new concepts like a moving background. Hope you guys enjoy this one. It was a pleasure to make