The Pit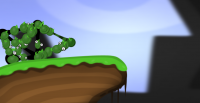 Author:
Chillo
Total downloads: 472
Latest version: 1.0
Release date: 01/29/2018 - 18:02
Sorry about the wait I was busy. So here it is...
Edit: this was a project from early 2017 and was canceled because my laptop wouldn't print screen for some random reason and so now I got a new one and now I can so I worked on the bugs and now its done!
There are 2 current downloads.