Spheres And Cubes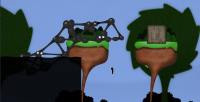 Author:
EnderGoo
Total downloads: 369
Latest version: 0.1
Release date: 06/18/2017 - 02:46
This Level Introduces A New Gooball To Wog Called The Ballhead Goo It Can Be Dragged But It Has No Strands. If You Are Gooey Goo Please Use This Level In Your WOG 1/2 Chapter 3.
There is 1 current download.