You Have To Explode The Head - Prehistoria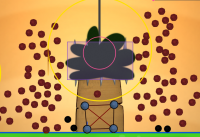 Author:
Deseptor
Total downloads: 14
Latest version: 0.1
Release date: 01/07/2021 - 19:32
This is the past version of You Have To Explode The Head. Requested by CrazyDiamonde. Instead of the robot, there is a tree you have to blow up. It uses 2 new gooballs called the Prehistoric Ivy and Prehistoric common_albino goos, which are by Hany666. He made them for his level pack World of Goo: Far Lands. Thanks Hany, and thanks Crazy.
There is 1 current download.