Dynamite Fuse Balls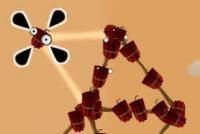 Author:
MOM4Evr
Total downloads: 1,669
Latest version: 1.1
Release date: 07/12/2011 - 14:36
It's dynamite!
The Goo Balls, that is.
I noticed there weren't very many (none that I know of, in fact) mods to change the fuse balls, so this one turns them all into sticks of dynamite. Kaboom!
Version 1.1
-Upgraded to goomod version 1.1 spec.
-No longer has .bin file in override directory.
There is 1 current download.