Smiley Face Balls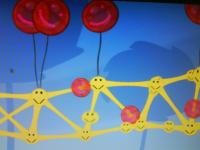 Author:
jmleleven
Total downloads: 7,176
Latest version: 1.3
Release date: 03/23/2010 - 15:50
This mod changes [in the latest version] just about ALL gooballs to unique smileys. Version 0.2 is for the demo version of WoG.
1.3
Changes: (drumroll) The Timebug problem is now fixed after a whole lot of pretty hard work! (Well, not THAT hard.) Now you don't have to click on those VERY ugly faces I drew to go back in time a move! Yes, I just insulted version 1.1 . Sorry 1.1 .
1.2
Changes: added Far Lands smileys. NOTE: if you want these Far Lands smileys to work, make sure Smiley Face Balls is higher on GooTool's goomod list than Far Lands.
1.1
Changes: added smileys on timebugs to make up for no eyes.
1.0
Changes: added smiley on "Fish". Added smileys on all islands.
0.8
This Mod changes almost ALL gooballs to unique smileys. CHANGES FROM 0.6: Goo Corp balls are right size. They are no longer huge.
0.6
This mod changes many different gooballs to unique smileys. No changes from 0.4, except more gooballs have smileys.
0.4
This mod changes (so far) common, albino, ivy, balloons, water, and World of Goo Corporation Balls to unique smileys. CHANGES FROM 0.2: Albino Goo's smile can be seen better, Albino's Smile Is Better, Ivy Goo's Smile can be seen better, Ivy's Smile is Better, Balloon's Smile is.. well.. funnier.
There are 12 screenshots.