Black and White 2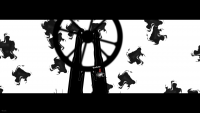 Authors:
.SlipKnoT._2_2
,
Lzzy Wuzzy
Total downloads: 1,118
Latest version: 1.1
Release date: 09/10/2017 - 23:18
Black and White 2 is my eleventh chapter, released on my original account and on Lzzy Wuzzy. It is the sequel to my second chapter, Black and White, which was released on 2014. This is my first chapter since 2016's World of Tangram Part 1: Color Citadel. Levels in this chapter are more difficult than the previous chapters i released except World of Tangram, which in my opinion is my hardest and most difficult chapter I have released throughout my entire Goofans tenure. A single level and a level pack was released in support of this chapter. These are "Weirdloop" and Inversion Version (Were-Black) respectively. The level "Inversion Version" is not included in this chapter. Instead, it will appear on a future Black and White 3rd sequel next year.
Single Levels:
"Weirdloop"
"Inversion Version (Were-Black)"
Background
Black and White 2 was released one year after my last release, making it the longest gap between my chapter releases, which is precisely 1 year and 4 months. Work on the chapter started on May 2017 when I decided to return and make another chapter. This event took place on the discord chat.
Levels
10 of the levels were made within one week on May 2017 and wasn't processed and debugged until August 2017. The remaining 2 levels were made on August 29.
Hookup
Hookup is the intro level. The scenario is very similar to "Entrance 10" from the Tangram chapter which was based on "Going Up" from the original game.
Flipsy Don't Die
Flipsy Don't Die is one of the easiest levels in the chapter. It can basically be finished in less than a minute.
Weirdloop
Weirdloop is one the most difficult and largest levels in the chapter.
Untitled
This is probably the weirdest level on the chapter. The music "Tears of Static" was made by Gooey Goo.
Level Listing
1. "Hookup"
2. "Feeling Colorless"
3. "Dive Bomb"
4. "C11L4"
5. "Flipsy Don't Die"
6. "Locked In"
7. "Blackwater"
8. "Darkstar"
9. "CHAOSRAMPANT!"
10. "Weirdloop"
11. "Untitled"
12. "What's In The Box?"
Credits
.SlipKnoT._2_2-pretty much everything
Gooey Goo-music on "Untitled"
There are 2 current downloads.