World of Goo - The Jorney Continues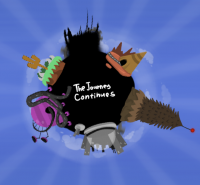 Authors:
SerafimGWS
,
Monochrome_95
,
Jim2102
Total downloads: 459
Latest version: 1.0
Release date: 02/16/2020 - 13:34
Created by Monochrome and SerafimGWS, Compiled By Jim2102.
2nd Chapter is crashing, so we have only 1 chapter.
If what we with other people creating other mod with chapter named same (Route 0 ) because that mod not get continue.
There is 1 current download.