Epileptic Nightmares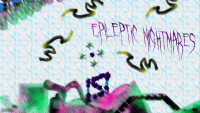 Authors:
.SlipKnoT._2_2
,
Lzzy Wuzzy
,
Slipknot
Total downloads: 1,289
Updated: Tue, 05/31/2022 - 18:28
DOWNLOAD ALL 3 PARTS OR MOST LEVELS WON'T WORK!
WARNING! NOT SUITABLE FOR PEOPLE WITH EPILEPSY
Epileptic Nightmares is a compilation level pack for the chapters and levels released between 2016 and 2018.
This pack includes the three most recent chapters I have released over the said period of time.
There are 12 levels in the level pack and all of them are individually edited and have unique distorted designs.
This pack is also a part of my new addin series called 'Fantastical and Withering Dystopian Sceneries'.
The series will be followed up after a month and this time, it will include most of the cancelled projects i have announced through the years, including the N-E-L trilogy.
Levels:
Entrance 10 (Epileptic Nightmares Edit)
Kill (Epileptic Nightmares Edit)
Color Bombing II. Walling Bombs (Epileptic Nightmares Edit)
CHAOSRAMPANT! (Epileptic Nightmares Edit)
Locked In (Epileptic Nightmares Edit)
Weirdloop (Epileptic Nightmares Edit)
0001x8 (Epileptic Nightmares Edit)
GET OVER THIS! I. Deep in the Red Jungle (Epileptic Nightmares Edit)
GET OVER THIS! II. Checkpoint (Epileptic Nightmares Edit)
GET OVER THIS! III. Got over IT (Epileptic Nightmares Edit)
Atop (Epileptic Nightmares Edit)
What's In the Box? (Epileptic Nightmares Edit)