Awesome Level (also known as (a.k.a) Full Level 2)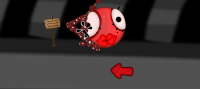 Author:
nvittoa03
Total downloads: 418
Latest version: 5.0
Release date: 12/06/2013 - 04:33
I'm back!!!
Sorry guys i'm back cause of Pivot Animations.
This year wants to end.
All are joined.
Beauty wants to escape.
She can run.
She can escape.
In the Chapter 3 willl have many features.
Coming 2014.
This is last level of this chapter.
5.1
New author to editing my level. Al- (VERSION 5.1 IS DELETED DUE TO THE CREATOR IS FAKE)
5.0
-Wheels and arms.
-Sticky bombs joined.
-Backgrounds now with nature and gears.
-First release.
-Bugs fixes.
Level created by nvittoa03
Level edited by nvittoa03 and Al- (THE 2ND EDITOR IS FAKE! GET OUT!)
Level based on The Third Wheel and Welcoming Unit
There is 1 current download.