Death Valley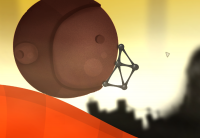 Author:
Crazydiamonde
Total downloads: 101
Latest version: 1.0
Release date: 01/18/2021 - 10:56
A level which I decided to scrap, simply because it was too hard for me to complete. Someone else might be able to, though...
Keep your balance on the boulder, and make sure not to touch the ground. The goo balls are detachable, but you can't thwack them.
There is 1 current download.