Hopes and Dreams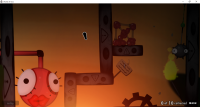 Author:
nvittoa03
Total downloads: 284
Latest version: 6.5
Release date: 12/31/2015 - 14:51
In Chapter 5, i will now using shaders system, too make the level beautiful, and makes your eyes feel digitalic.
Anyways, nvittoa03 in...
Hopes and Dreams!
The Goo Balls are sleeping. And there is the
way to wake them up. And it's using beauty! But the door blocks beauty, so what do we do? Well, you have noticed, that the beside beauty, there are fire (fuse) goo balls who are not sleeping. After the door it's destroyed, the beauty will turn into small pieces, then wake up the goo balls.
WHAT'S NEW:
6.5
First Release
CREATED BY:
nvittoa03
(Nicholas Vitto Adrianto)
GOAL:
10 Balls
OCD:
Finish 24 Moves or least
There is 1 current download.