Planet of Goo - v1.2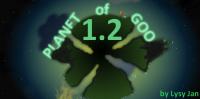 Author:
Lysy Jan
Total downloads: 979
Latest version: 1.2
Release date: 11/09/2012 - 00:10
Planet of Goo
About...
It is a far little planet of Goo... When a large planet was blown up, Goo from around the world have started to fly to the building of a new tower... Goos from this planet also want to help them...
Description...
Planet, moon, many asteroids, clouds with rains, mountains, deeps, sea and many-many Goos-astronauts! They must to help in building of new tower, and only you can help them!
History of versions...
0.1 beta - First version. Very ugly, little opportunities.
0.2 beta - More new pictures, adding new opportunities and texts.
1.0 - First official version. Changed background from yellow and orrange to black.
1.1 - Adding "Sea of Silence", new textures, etc.
1.2 - The latest version. New goo-balls (astronauts), several changes in gravity, new texts and textures, etc.! Play now!
There is 1 current download.