Fire and Earthquakes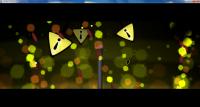 Author:
Mygod
Total downloads: 2,043
Latest version: 0.3
Release date: 07/14/2012 - 02:33
Fire! Earthquakes! Burning fuses rain!
This level is my fifth level on goofans. It was made long time ago and I improved it and published it here.
Goal: 999 balls


OCD: 100 balls
Not hard. Have fun!

P.S. Fuses has burn time. A whistler will help.
This level shows you A NEW LEVEL ENDING WAY and how to create EARTHQUAKES!!! Feel free to use it!
0.3 Updated
Add a new level ending way and move this stuff to sample category!
There are 2 current downloads.