World of Goo Console Enabler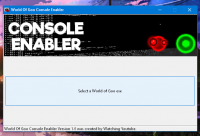 Author:
Watching Youtube
Total downloads: 459
Latest version: 1.0
Release date: 05/18/2020 - 20:19
World of Goo Console Enabler
World of Goo Console Enabler is a utility which allows you to easily enable console output in World of Goo without any complicated hex editing. Console output is very useful in debugging your levels and mods and it can help you find errors.
Requirements
This utility requires Java 64 bit 1.8.0 or higher to run. It can be downloaded here.
This utility is designed to work with World of Goo versions 1.2 and 1.3. This will not work on the 2019 update right now. Maybe in a future version, who knows. For now only use it on WorldOfGoo.exe versions 1.2 and 1.3.
How to use
Simply open it up and select your WorldOfGoo.exe, a dialog will pop up asking if you want to backup your exe. It is recommended that you backup your exe.
Hope you guys enjoy

if you find any bugs let me know in the comments or message me on discord I am in the goofans discord.
There are 2 current downloads.