Winter Wonderland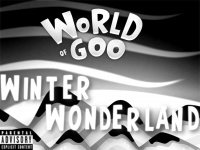 Author:
.SlipKnoT._2_2
Total downloads: 2,354
Latest version: 2.0
Release date: 05/30/2014 - 23:12
Winter Wonderland is my debut chapter. It is an eight-leveled chapter which has a winter themed environment. The chapter was moderated by movildima. He was the first moderator to release my chapters. Despite the lack of level production, Winter Wonderland maintained a good reference to a cool chapter containing the best gfx I made. As of October 2015, downloads for the chapter is more than 500, making it the second most downloaded chapter I have released. The chapter was generated by 2 single levels, "Hiking Adventure" and "Icing Up." The title level was released as single level very far from the date of the chapter's release.
Single Levels from This Chapter
1. "Hiking Adventure"
Released: December 13, 2013
2. "Icing Up"
Released: June 5, 2014
3. "Winter Wonderland"
Released: November 28, 2014
Planning
The planning was very easy, to create snowy chapter. It was first planned on November 11, 2013 and on that day; I created "Hiking Adventure." It was a stormy day! I thought I'd create a level about calamities and seasons.
Creation
Creating the levels was a big challenge for me. The hardest level to make was "Winter Wonderland." It took me a week to finish it. In the gameplay, we can see that it is in the final part. I wouldn't have to worry because I got the first single level to add to it (which is of course "Hiking Adventure"). The level that was actually created last was "A Snowy Entrance." Whenever I create levels, "the worthless ones is always created last."
Creating the goomod
This was the hardest part! I was a complete beginner on that time! I don't know any xsl or xml. But had an idea! I downloaded one chapter from the website and based on it. I copied everything needed and added my own! I self-studied about it and never downloaded chapter tutorials. Whenever I find a strange thing, I investigate it! I mastered it and continued to make it. Well, that is why the release was delayed until March 2014.
The Secret
I have included a hidden level to it called "The Good Old Snowy Days"
Special Edition
The Special Edition was a limited offer with 2 new bonus levels, "Albino Pokey" and "Lost Winds Of The Opposite Direction". It was limited to 101 downloads.
Level List
Original Release
1. "Leaving Summer"
2. "A Snowy Entrance"
3. "Introducing Snowy"
4. "Hiking Adventure"
5. "Freezing Point"
6. "Icing Up"
7. "Winter Wonderland" (after finishing the level "Digital Jail", this level is followed up by a hidden level "The Good Old Snowy Days" found on the ISH screen)
Special edition
8. "The Good Old Snowy Days"
9. "Albino Pokey"
10. "Lost Winds Of The Opposite Direction"
There are 16 screenshots.