Inversion Version (Were-Black) Level Pack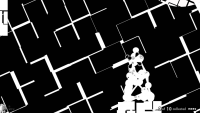 Authors:
.SlipKnoT._2_2
,
Lzzy Wuzzy
Total downloads: 724
Latest version: 1.0
Release date: 06/12/2017 - 14:23
Inversion Version (Were-Black) is a single level and a level pack to promote my upcoming 2 or 4-part chapter Black and White 2. This pack is a very unique pack that incorporates my original level concepts. That includes moving background and bizarre images that is reminiscent to Distortion's design...
Levels
Inversion Version (Were-Black)
This level is the most unique in the level pack. It incorporates with tiled images. Tronix 51 is a new song that is played in the level
Flipsy Don't Die
Flipsy don't Die makes the player unable to identify what to explode. The deadly wheel or the thing that's holding the gooballs?
C11L4
This is a bonus level for the LP... However, it will appear as a normal level on the upcoming chapter...
P.S. all future addins will be released with my second account Lzzy Wuzzy

There is 1 current download.