Robot Head Destroyers Levels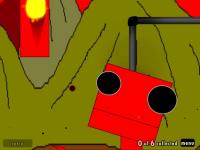 Author:
inwog
Total downloads: 3,139
Latest version: 1.3
Release date: 05/11/2010 - 00:24
My third interesting levels better than Challenge Levels. 7 robots are blocking the pipe system (it's like You Have To Explode The Head official level in the official World of Goo) in every color dimension, they do really even get stuck on this.
The graphic are made by Microsoft's Autoshapes that I created in Microsoft PowerPoint and save it into an image.
by inwog.
(Sometimes these levels were violent.)
Announcement
There'll be an another set of levels, again; related to this level. click here.
Changelog
Version 1.0
- first goomod release
Version 1.1
- edited the heads, the positions
- background is now new
- edited all the levels
Version 1.3
- removed all thumbs.db files
- new level --> the grayscale level (Gray for Infinity) considered as level 7
- edited the first level (the hedge is out of bounds so I adjusted it)
- OCD values for all levels are better