Halloween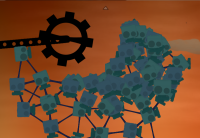 Author:
James
Total downloads: 1,293
Latest version: 0.1
Release date: 10/31/2010 - 06:12
Happy Halloween! Brought to you by James! (or sometimes known as JamesOfGoo!)
The suns coming up! After a time of haunting, you have to reach your graves that mysteriously went missing! That pipe up there, however, looks like it might go somewhere...
Music is the Piazolla loop (backwards) used in Tower of goo: Unlimited, and the original ToG release.
Credit to Albino Pokey for the Dead Trees.
There is 1 current download.