Tower of Goo Reloaded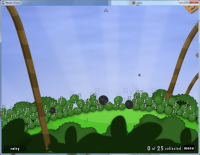 Author:
jackchen2345
Total downloads: 1,411
Latest version: 0.3
Release date: 04/13/2012 - 03:51
Tower of Goo new version: Tower of Goo Reloaded!
Version 0.1:
1. The first version.
Version 0.2-0.3:
1. Change the DrainedFallingAttachment balls.
OCD: 99 balls.
Goal: 25 balls.
NEW BALL USED: DrainedFallingAttachment!
Btw, why the FallingAttachment page is in the Woogle pages instead of Wooble pages?