Whack the Moon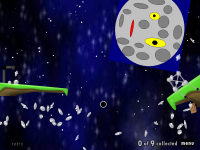 Author:
dan250
Total downloads: 966
Latest version: 0.1
Release date: 10/02/2011 - 05:55
"What a beautiful night today" says the sign painter
Is it December
or October?
definately not October
it was too hot for an October day
hotter than august
It was 9 days before Christmas
and it was the most beautiful night in December
what's that?
Is it a comet or star?
make a wish to get the OCD
P.S:I drawn the moon on paint
found the backround on google
please comment and rate

There is 1 current download.