Adrian's Cassette Collection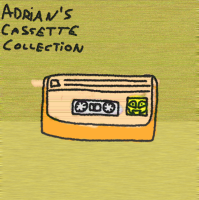 Author:
Adrian122
Total downloads: 0
Updated: Mon, 04/20/2020 - 16:33
Hello! What's up?
I was going through some addins on this site, and then I saw Monochrome_95's addin that introduces an idea of Cassettes, and then I though that I could do something similar.
I present to You... Adrian's Cassette Collection!
(Since the addin's size is massive (because of all the tracks that are over two minutes each), here's a Google Drive link: https://drive.google.com/open?id=1Ef-bDc7YP16Osln22s58xW2zMNPSRRI9)
There are 12 cassettes so far. Each one with unique song.
I'm planning on gradually adding more and more songs over time :>
Again, the original idea by Monochrome
Have fun!
How to use:
1. Pick one cassette up.
2. Plop it into the Cassette Player
3.Enjoy the music!
(When a cassette is done playing it shatters to pieces to leave room for the next one)
Newest Patch:
-3 New Songs!
CrushBit
Warm And Dim
Curiority
All songs made by me, Adrian122. You can check them out on my SoundCloud whenever you want to. Cheers!
There are no downloads available.