Advanced Game Menu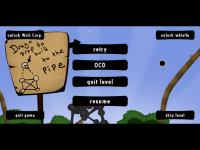 Authors:
wogfan
,
Mygod
Total downloads: 2,537
Latest version: 0.5
Release date: 01/09/2015 - 22:33
This menu can allow you to do following things:
retry, show OCD, quit level, resume
skip level even your skips run out!
WARNING: Skipping a level with cutscenes may cause the game crash.
unlock whistle & WoG Corp. Useful for those cheaters.
quit game. Useless button.
Special thanks Mygod for his Introduction to Goomod !