Christmas of Goo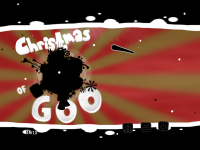 Author:
tacomann13
Total downloads: 1,883
Latest version: 2.1.1
Release date: 12/24/2010 - 15:17
A smallish mod that changes the World of Goo to be Christmas'y.
Except the Bones thought it was Halloween. And the Uglys failed at eyeliner.
The Beautys are looking beautiful with their mascara and eyeliner.
The Bomb Stickys... they wanted to be stars... but apparently they meant movie stars...
And the Ivys... well it looks like they have the Chicken Pocks.
I hope you like this mod.
Merry Christmas!
and a happy new year...
-Tacomann13
UPDATED!
There are 2 current downloads.