Textual Smiley Particles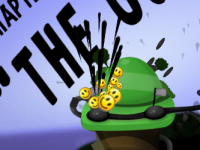 Author:
MOM4Evr
Total downloads: 1,278
Latest version: 1.0
Release date: 09/24/2010 - 09:48
Leaves, who needs them?
Introducing the all-new, state-of-the-art (or just art-of-the-state) textual smiley particles!
Features:


Will replace the background leaves particles with random smileys


Will replace sign exclamation particles


Will replace goo sleeping particles
For all those of you who use textual smileys far too much.

(wait, is that me?)
There is 1 current download.