World of Goo Profile Renamer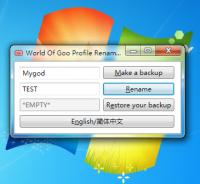 Author:
Mygod
Total downloads: 888
Latest version: V1.0.2.8
Release date: 08/24/2011 - 18:15
A small program I made. Just for the newbies.
Before you use this program, you must install:
· .Net Framework 4 Client Profile
· World of Goo (and played) (or you have the profile file)
V1.0.2.8 Updated: Merged two language packs; Changed encrypt encoding; Improved encrypt algorithm; Changed application icon; Make window resizable; Made the program smaller.
V1.0.1.2 Updated: Fixed two bugs.
P.S. Remember to make a backup of your profile. And if you find a bug, tell me about that please.
P.S. I made two language version of it. Choose what you want.
P.S. Thanks davidc.