Billiards Corporation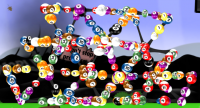 Author:
Ivan187
Total downloads: 446
Latest version: 1.0
Release date: 04/07/2015 - 19:09
I'm back with a new mod which is like my other Billiards mod, but this time it changes the World of Goo Corporation balls into a random billiard ball! Really visual-appealing, isn't it?
Please note that this does not affect the balls in the Virtual Corporation.
Also, you can use this with my other Billiards mod, but make sure that mod is below this one in the mods list of GooTool (unless you have version 1.5).
There is 1 current download.